Week 1: New beginning with Marketing Nest
Hello! Or better kalimera! (That means hello in Greek)
I'm Coralie, a French girl doing an internship at Marketing Nest. Before we begin, let me introduce myself.
I'm currently enrolled in a master's degree specialized in languages, communication and marketing. Apart from my studies, I love travelling. My friends call me the globe trotter! 
You are maybe asking yourself why I chose to go to Cyprus to do a marketing internship. Well, it's very simple. I wanted to learn more about marketing and improve my English at the same time. I realised an internship in Cyprus was the perfect fit! 
Marketing Nest was a great opportunity for me, because what's a better way to learn about marketing than with a Google Partner agency?
On this blog, I'll be sharing with you what I've discovered, the insights and experiences on my journey as an intern. In short, I'll be taking you on board with me for this brand-new experience! Dive into the world of a marketing internship and let's grow together!
Week 2: Welcome to the team!
It's been one week since I joined the team. Time flies when you're having fun!
I've met the whole team and got to know them. Let me introduce them to you.
First, meet Angelos and Andreas. They founded the agency back in 2016. You won't find anyone more welcoming than them and I am eager to learn from their expertise!
Next, you'll meet Leon, aka the team DJ. He always comes up with the best playlists to boost the team's dynamism and creativity. Apart from that, he's a pro at Google Ads. No matter what questions I ask, he always has the right answer.
Chris, aka the team sportsman. Whether on a football pitch or a paddle, he'll be happy to give it his all. He's a financial expert at the office and is always up to speed with his work and knows every detail. Most importantly, he's always happy to help.
Finally, we have Margarita, aka the office energiser. She goes to the seaside every lunchtime to keep active – I'm very happy to go with her! Otherwise, Margarita is the social media boss. She knows all the ins and outs of social media and always has a smile on her face.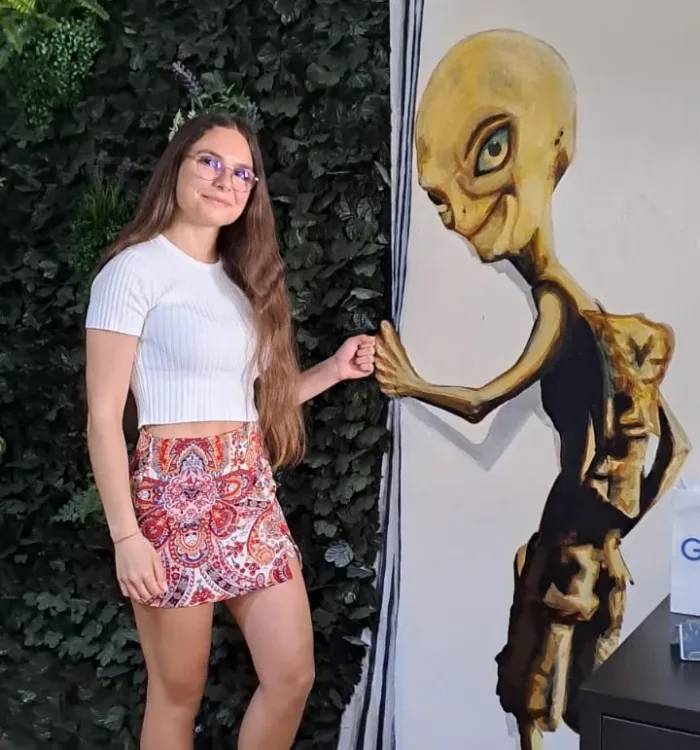 Week 3: Getting my bearings
In just one week I've already had the chance to discover quite a few things! 
I started off shadowing Margarita and started with social media. I discovered the platform Metricool for creating and strategically planning posts. So, I was given the task of producing a post for the company's social media about the upcoming GA4 migration! Of course, Margarita helped me with this task; she then showed me around the platform and the user interface. While posting on social media I also learned about tracking  UTM parameters. It's really handy. It makes it possible to track where users are coming from and to identify and track the effectiveness of online marketing campaigns across traffic sources and publishing media. I then wrote up a post for our socials about the GA4 migration.
For his part, Leon introduced me to some of the tasks that he does in his day-to-day. He showed me a Google Ads campaign he'd done and the results. It's a bit more complex but so interesting – I can't wait to learn more about it!
The marketing team at Nest always uses the latest tools to work with in order to stay ahead. For example, Chris naturally helped me access Bard, the AI tool developed by Google to see how marketing is shifting towards automation and machine learning. 
I also got the chance to discover Friday's office ritual. Every Friday, we go for lunch at a restaurant by the seaside, allowing us to spend some time together out of the office. What a way to end the week on a good note!
Speaking of fun Fridays, the whole team went to the Cyprus 3×3 basketball event to support the players and represent the agency. Marketing Nest sponsored the event and we prepared a little something for the players.  All of the participants received bucket hats, tote bags and webcam covers from the agency! It was all part of a marketing campaign that tied the basketball event to the digital marketing services that we provide. I couldn't wait to see what a great time we'd have.
Following this event, my mission was to create a post on our different social media platforms in order to promote the fact that Marketing Nest is an official partner of this event. I really liked this type of task as it allowed me free rein to my creativity. You can check out this post on the agency's social media. 
Week 5: Training keeps going
This week, I had the opportunity to work on a variety of projects. First, I'm starting to familiarize myself with the concepts of Pay Per Click (PPC), Cost Per Click (CPC), and Cost Per Lead (CPL) thanks to my coworkers. Also, I did some research into some PPC 2023 benchmarks for various industries. I learned a lot about it and I'll follow up this work next week with Margarita. One of my main tasks of the week was to write a Facebook Ad on the agency's services. I learned that a Facebook Ad has to be informative, engaging, and relevant to the agency's target audience. To do this, I worked on the ad copy, the creatives using the company's brand book and the caption of the post.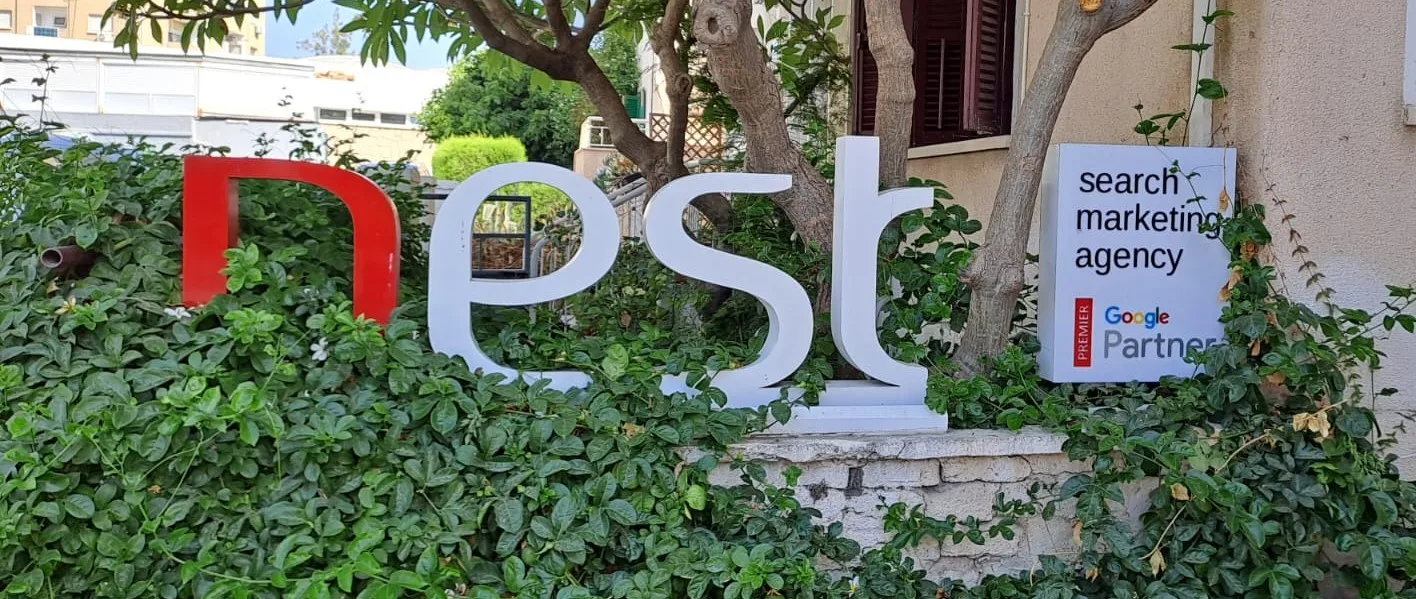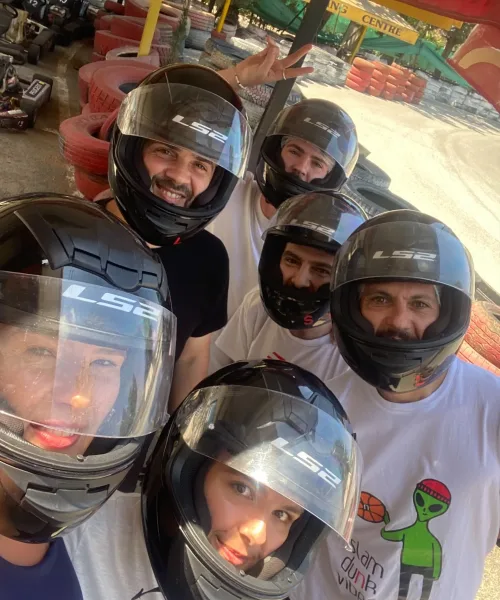 The advantage of doing an internship at Marketing Nest is that you'll be joining a young and friendly team. You'll have the perfect environment which allows you to progress and learn professionally. 
The team spirit is strong and very noticeable. It's not unusual at lunchtime to spend some quality time together. With Margarita and Leon, for example, we've gotten into the habit of going for a quick lunchtime walk!
This week exemplified the positive atmosphere within the agency. We embarked on a Team Building day in Paphos on Monday, beginning with two go-karting sessions. Our shared goal was to improve our lap times, and we all eagerly embraced the challenge! We then went down to the beach for a meal and a refreshing dip in the sea. It was an incredible day that showcased the spirit of Marketing Nest.
Over this month I learned that you'll never feel lost at Marketing Nest! I can't wait to see what the coming weeks bring, so keep an eye out on my future posts.